The renderings come while the city is in the process of evaluating the impact of 76 Place.
For the first time since announcing the project last summer, the Sixers are releasing a series of architectural renderings of 76 Place — the $1.3 billion basketball arena the team hopes to build on Market Street near Chinatown.
The final design is still years away. But the color illustrations provide a glimpse of what fans might see inside and outside of the roughly 18,500-seat arena, as well as what passersby on Market Street would experience if the project is completed.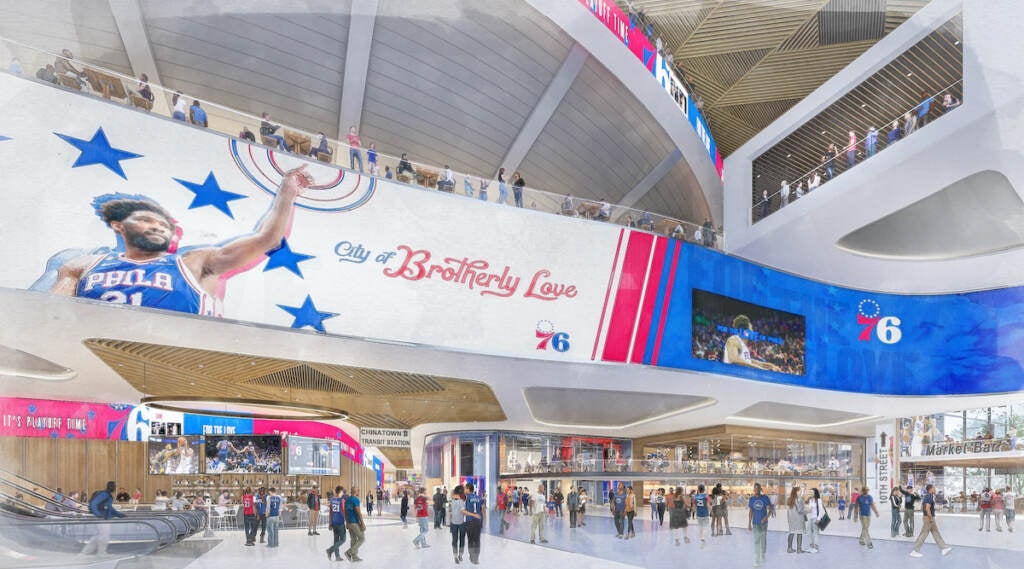 "The images…are some of the early concepts that start to build on some of the discussions and feedback we've had with people in the community, with SEPTA, and with others about how to think differently about an arena that's going to be in 2031 and beyond," said Jordan Goldstein, managing principal at Gensler, the architecture and design firm the Sixers hired.
One of the renderings shows what fans would see when they enter the facility, including the escalators that would bring people up to the arena, which is now slated to be on the second level of the facility so fans can enter and exit the building on all four sides. The Sixers plan to put retail and restaurant spaces at street level, similar to the layout of TD Garden in Boston, the home of the Celtics. Gensler also worked on that project.
Read the full article: https://whyy.org/articles/76-place-sixers-arena-new-renderings/